Automatic Water level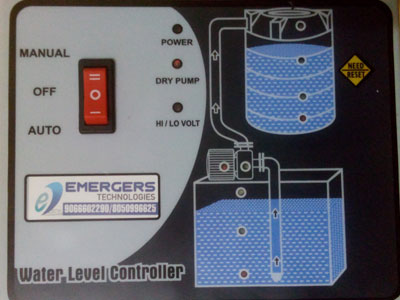 EMERGERS Technologies has very useful Products/Solutions.
Automatic Water level Controller & Indicator with Leakage Detection
Automatic water level controller cum indicator with Leakage detection serves 24 hours water supply without letting the overhead tank and Sump to become dry and indicate water level also. The Best part of this product is Leakage detection. When there is a leakage in the tank, Motor is switched OFF and Alarm is raised.
Other common features are Manual mode, Voltage Indicator
The Electric current consumption is minimal and poses no hazard to health.
Enhanced features such as Multi-tank Multi-sump and Total water consumed are also available in High-End models.